Four CSCNO school principals receive provincial honours
October 25, 2018

Four Conseil scolaire catholique du Nouvel-Ontario (CSCNO) school principals were recognized by the Association des directions et des directions adjointes des écoles franco-ontariennes (ADFO) on October 18 during the association's annual conference in Toronto.
Yves Laliberté, Principal at École secondaire catholique Champlain (Chelmsford), and Paul Henry, Principal at École secondaire du Sacré-Cœur (Sudbury) and Carrefour Options+, both received the first-ever ADFO Leadership Award. The leadership award recognizes the exceptional contributions of principals to their school community, their community as a whole, their province and their country.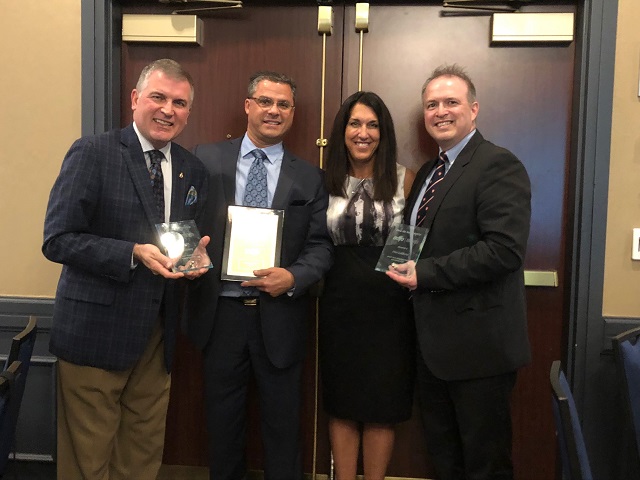 Under the leadership of Mr. Laliberté, ÉSC Champlain received, in 2018, the Premier's Award for Safe and Accepting Schools and was also designated a Microsoft Showcase School. His exemplary leadership also earned him, in December 2017, a Canada 150 pin for his contributions to youth leadership, particularly through his involvement with Greater Sudbury sports associations.
Mr. Henry, a retired Canadian Armed Forces Major and member of the Order of Saint Lazarus, has been awarded numerous prizes and prestigious distinctions. He has also been honoured on several occasions for his involvement with Canadian Blood Services and St. John Ambulance. Finally, as past president of the ADFO, Mr. Henry has a wealth of knowledge that he is always ready to share with fellow school principals.
Additionally, Normand Roy, Principal at École St-Augustin (Garson), was presented the Prix de la présidence, which recognizes the exceptional local and/or provincial contributions of ADFO members. An active member of the Association des personnes à la direction du Nouvel-Ontario (ADPNO), Mr. Roy attends all meetings and events where his presence is necessary. He is known as a great mentor to fellow principals and is always willing to defend their rights.
Finally, Luc Dalcourt, principal at École Notre-Dame (Hanmer), was honoured for his 20 years of service as a school principal and member of the ADFO.
"We really are fortunate to have such a high-level team of school principals and vice principals," stated Ms. Lyse-Anne Papineau, Director of Education at the CSCNO. "It was a pleasure to witness the commitment and dedication of our principals recognized at a provincial level. These individuals contribute immensely to the success and vitality of our Catholic schools."
The Conseil scolaire catholique du Nouvel-Ontario offers a French Catholic Educational Program that is widely recognized for its excellence. The CSCNO provides a quality learning environment and academic program that runs from early childhood to adult education, with some 7,000 students enrolled in 27 elementary and 10 secondary schools.
Source:
Brigitte Morin
External Relations Coordinator
Conseil scolaire catholique du Nouvel-Ontario
705-673-5626, ext. 389
705-690-9740 (cell)
brigitte.morin@nouvelon.ca